Welcome to my site!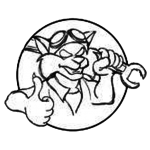 2020 was a rough year for everyone.
2021 is looking slightly better so far. Keep your fingers crossed! 😉
I have recently become a licensed vender for Ars Moriendi. I have been selling their 3d printed merchandise at my shows; they have been very popular. I hope to have them up for sale on my website soon.
Upcoming Shows in 2021
July 31st – Aug 1st – Baytown Christmas in July
October 15th – 17th – Beaumont Comic Con
Be sure to follow me on social media!
Facebook | Instagram | Twitter